Bulloch Fabricating Inc has been involved in baggage handling for 25+ years. We are a proud member of the IABSC and work closely with airport consultants by supplying customers with industry specific products from stainless steel trim to equipment. With a vast knowledge of the airport industry we provide experience and aid to baggage handling integrators.
We specialize in stainless steel and painted trim that is seen by the public.
Ticket Counter Trim – Custom and Bulloch Fabricating Inc Design
Our goal is to develop ticket counter trim that will save time on installation. We help our customers understand the benefit of the Bulloch Fabricating Inc designed trim and can also produce a customized design based on specific needs.
Feed Conveyor Trim/Custom
Bulloch Fabricating Inc can design feed conveyor trim that will save time on installation by field measuring and custom manufacturing stainless steel and painted trim. We have many years of experience custom designing trim and cladding on feed conveyors.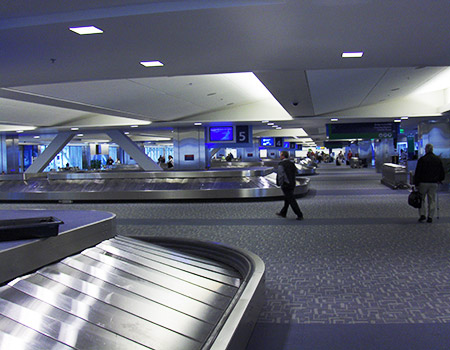 Conveyor Equipment – Custom and Bulloch Fabricating Inc Design
Bulloch Fabricating Inc has designed and built custom airport baggage handling conveyors for over 25 years. Our conveyor equipment has both modular and cost saving manufacturing designs available.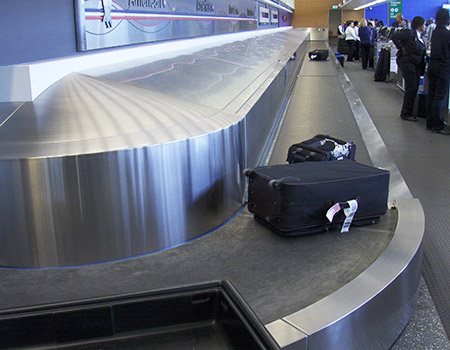 Inspection conveyors are turnkey and ideal for easy maintenance and a safe inspection area.
Scale Label Dispatch Conveyors
Conveyers are fitted with Atrax scales and designed for easy maintenance and modular design.
Bulloch Fabricating Inc developed this product because we recognized a need for our customers to save money and time on installation costs associated with ticket counter conveyors with trim. Our unique product design will save as much as 50% on installation labor, both mechanical and electrical.
Our deck support system is a pre-engineered bolt together metal framework with plywood decking to help our customers save on installation costs.
Engineered to withstand the punishments of daily use, the CBRA Inspection Table M100 is designed to fit all TSA requirements. The ergonomic sliding table top design allows for ease of use even while under heavy load. The M100 can be adjusted to fit almost any space with the option to set stop positions for the Sliding Table Top and the ability to add incremental Table Top Extensions.
The CBRA Back Wall M101 offers the flexibility to accommodate all of the necessary equipment required for CBRA baggage screening. Designed to fit the CBRA Inspection Table M100, the M101 provides CPU storage, (2) 120V external power sources, access panels to internal wire ways and an aluminum slat wall header to receive multiple adjustable monitor mounts. The M101 also has a number of accessories to support or mount various pieces of baggage screening equipment.